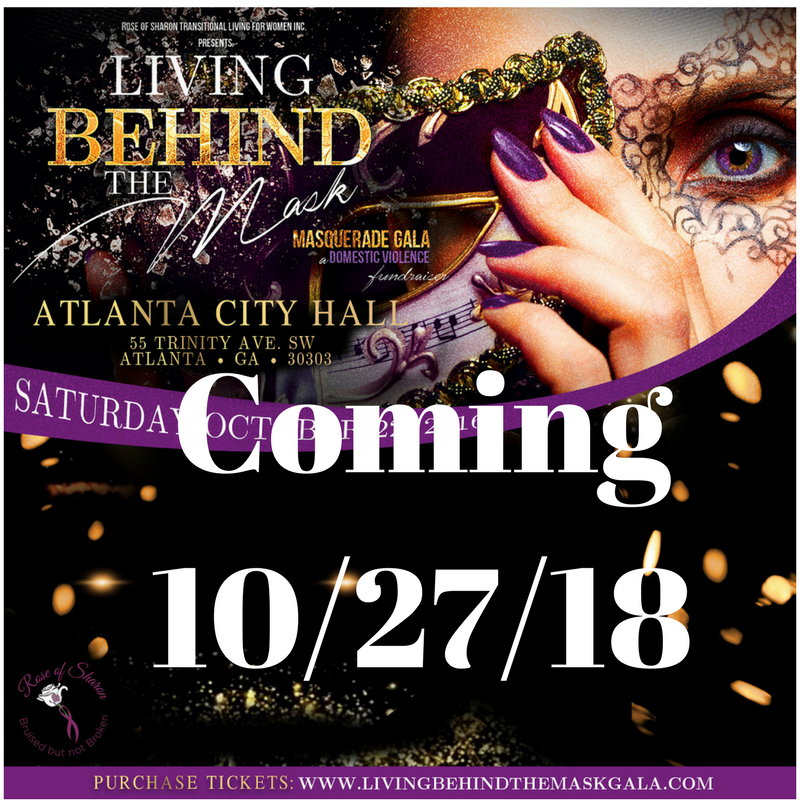 2016 Living Behind the Mask Masquerade Gala at Atlanta City Hall

In recognition of Domestic Violence Awareness Month, Rose of Sharon Transitional Living for Women Incorporated hosted "Living Behind the Mask," a masquerade gala, on October 22, 2016. During the gala, survivors of domestic violence and sexual abuse received awards honoring their tenacity and ability to overcome such obstacles. Thank you to our amazing brand ambassadors Reece Odom, Dr. Yamma Brown (James Brown daughter), Lelee Lyons and Dr. Robert J. Watkins.

The gala featured live entertainment by the King of Strings Ken Ford and female saxophonist Leisha J. Collier and fashion show by Zmear Kelle

This year honorees are Tamiko Lowry Pugh of The Still Standing Foundation, Kimya Motley of Have of Light International, INC., Melissa Holmes of Love Shouldn't Hurt NY, Erika Lee of P.U.R.S.E. Foundation, Ardre Orie of Pink Wish Foundation, Harralyn Swinger Rawls of S.A.V.E.D Domestic Violence Program, Pastor Sabrina McKenzie of The Dancing Preachers Intl., and a host of brand ambassadors and special guests; such as, Dr. Alexcius Branch.

Rose of Sharon Transitional Living for Women Inc., founded by Rhonda A. Thompson, stands firmly on its mission to serve women and children of the greater Metro Atlanta area. The purpose of "Living Behind the Mask" is to serve as a fundraiser which aids women and children involved in cases of domestic violence by offering emergency shelter.


2015 "Living Behind the Mask" Masquerade Ball
A Purple Affair
A Fundraiser Honoring Over Comers of Domestic Violence
On October 24, 2015 our masquerade ball fundraiser "Living Behind the Mask" kick off our $150,000 goal for our first of many emergency shelters. Women suffer in silence and wear masks daily . This event is one that has the ability and real potential to save lives of many across the state of Georgia by bringing awareness and honoring women who survived.


2015 Living Behind the Mask Honorees..

Break the Silence Against Domestic Violence!!!!!


Our 2015 honorees are some phenomenal women Andrea Kelly former member of VH1 Hollywood Ex's, Carlett Martin world Renowned Gospel Singer, Janet Jackson Boss Chix of Atlanta, Business Women known for producing amazing celebrity events, Kendra Turner of S.O.D.A (Survivor of Domestic Abuse, Sharon Willingham of Directions Youth and Family Services, Kristle Shanell of the Kristle Shanell Show and our Key Note all the way from Chicago, IL Jodine Basterash

Domestic Violence Advocate,
Actress and creator of Adore to Empower.



Our 2015 Living Behind the Mask Event Hostesses


Help us Help Others!!